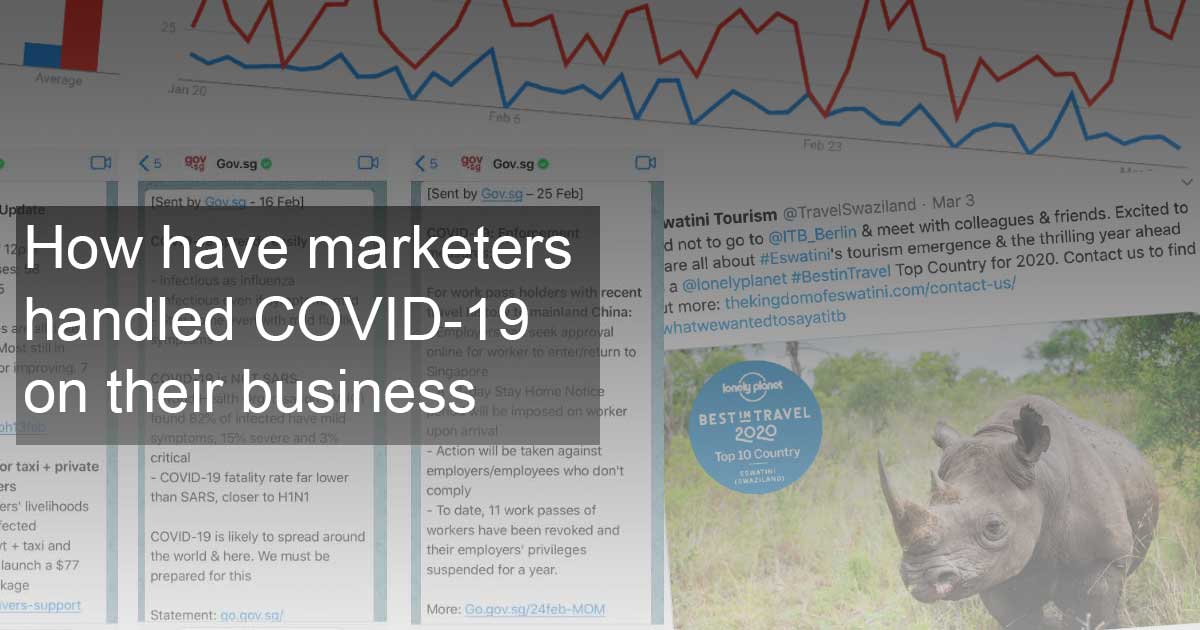 16 Mar

How have marketers handled COVID-19 on their business

As the COVID-19 pandemic grips, the world with daily spikes in reported cases and deaths, the cause to businesses around the world have been horrific. In the south-east Asia region, ASEAN+3 Macroeconomic Research Office (AMRO) is estimating the impact could shave as much as half a percentage point from the economic growth of some regional economies of 2020.

As the West is responding swiftly, in Asia, authorities have been quick in placing tough border control rules, banning entry from passengers coming in from known infected countries, imposing self-quarantine to travellers, closing schools and universities and larger gatherings.

The role of promotion and marketing in the midst of the coronavirus (COVID-19) has changed, but there are a few examples that brands irrespective how small or large, or different can potentially handle the situation without damaging their brand.
WhatsApp Singapore Government
The Singapore Ministry of Health has been on the front foot since the outbreak, using WhatsApp as their platform to send daily updates anywhere from two to three on the Covid-19 virus since late January.
What makes this stand out is that the government is leveraging a communication platform, WhatsApp that their audience is familiar and comfortable with. It's easy for both parties to send and relate information outside the WhatsApp group and at the same time, can further strengthen trust and credibility to the brand, in this case, the Government.
If you're a small to medium business, it's definitely worth creating a branded WhatsApp group. It's personable, you'll get a higher penetration and open rate, just don't go abusing the trust that your customers have given you buy giving up their mobile number to you.
Source – GoInsider
ITB Berlin
When ITB Berlin, the world's largest travel trade show went to social media on February 28 to cancel their event which was scheduled from March 4-8. Afterwards, their marketing team began using the hashtag #whatwewantedtosayatitb in social.
The rippling effect resulted in other destination bodies using the #whatwewantedtosayatitb hashtag to promote their destination within the conversation.
Even though this is just some of the examples of how some destination bodies chose to leverage the opportunity to promote their destination to travellers, some have also chosen to postpone promoting their campaigns as the COVID-19 unfolds due to the potential risk of the virus freely crossing over into their country from travellers.
But what I like about this approach is that as a brand, you can leverage the power of social media to listen in to the conversations around you and participate, either as a way to promote your services, add value through advice or clarification.
Source: Skift
Currently, ITB Berlin has just announced their virtual convention as a way to still play a relevant role in the travel industry
The Online Education Sector
As more and more countries increase measures to reduce large gatherings by closing down schools and universities, there has been a steady increase in smaller, agile online education firms taking up this opportunity to promote their services.
Demand for learning online, especially languages like English and virtual classes have sored since COVID-19 was reported back in January of 2020. And online players like VIPKid, TEach Away and DaDa would have seen spikes on your websites.
Search results 20/1/20 – 16/3/20
What I like about this is that you're seeing consumers demand to dictate how brands or traditional educational institutions adapt and change the way to provide services.
Forbes recently published an article that talks about the innovation in technology and how that's reshaping the way education is taught online. Definitely worth a read.
So in summarizing, marketing teams in organizations small or large can still be effective, it just comes back down to the context and showing empathy to your audience. Hopefully, the examples can inspire your own response to the COVID-19 pandemic.