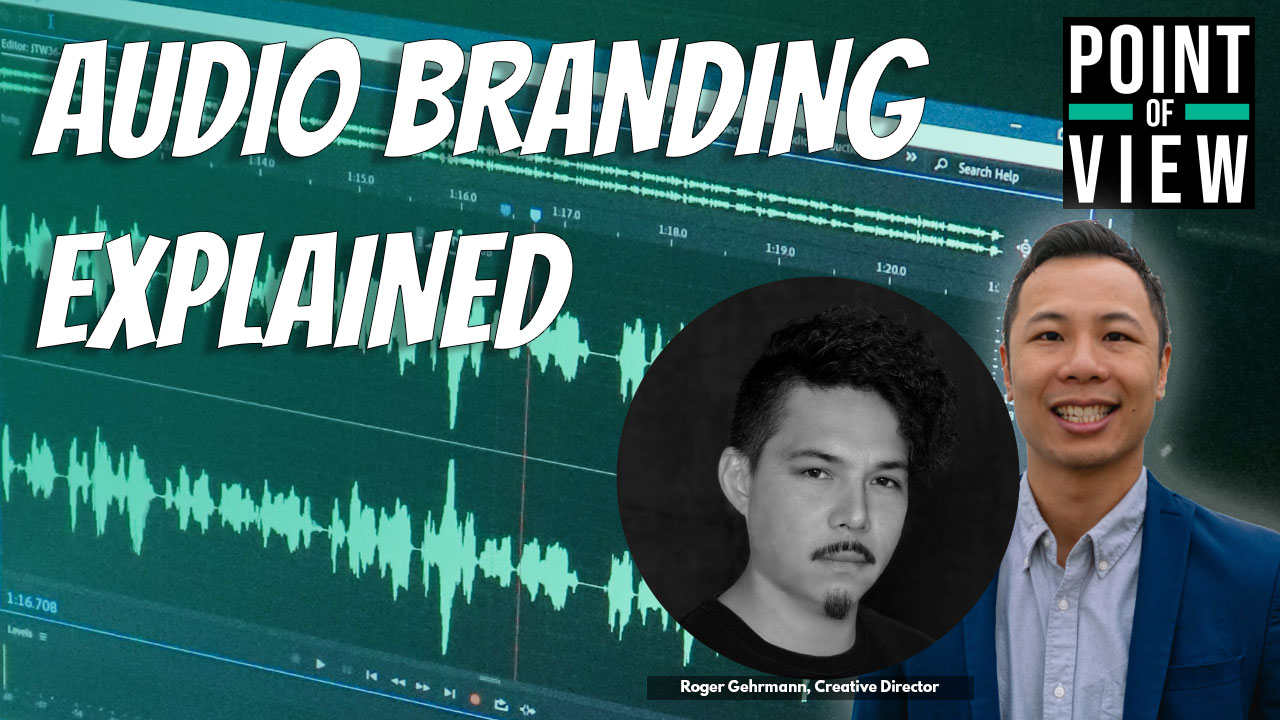 20 Apr

The Rise of Audio Branding or Sonic Branding in 2021 Interview with Roger Gehrmann Episode 37

Audio branding, what is it? What does it represent? How do we use it? This article will break it down with tips to future proof and differentiate with my podcast interview with audio branding expert, Roger Sho Gehrmann.

Roger Gehrmann is a creative leader with 18 years experience spanning the various worlds of Advertising, Product Design and B2B & B2C Marketing & Strategy. He currently is the Executive Creative Director at SiriusXM/Pandora, the largest audio entertainment company in North America. Roger is the co-founder of Studio Resonate, the audio-first creative consultancy that brings brands to life through audio.

Our chat was really insightful. We talked about branding and what makes a brand iconic. Roger also introduces us to sonic branding, what does that mean? What we already heard about it? And also some of the tips with regards to how you can approach sonic branding alongside brand safety. Finally, I also asked them to provide some advice for young creatives or creative directors out there when it comes to solving challenges that they're facing from a creative standpoint of you so really insightful.

Here are the key chapters of our podcast
0:00 – Intro
2:28 – Favourite artist and why?
4:11 – What makes a brand iconic?
5:47 – Do iconic brands have a consistent narrative?
7:39 – Sonic branding example with Mastercard
8:48 – What is audio branding?
9:09 – How Mastercard created their audio (sonic) branding
11:03 – Intel's audio branding explained
13:14 – McDonald's 'I'm lovin it' sonic branding
15:15 – How long has audio branding been used for?
16:44 – Why audio branding is important for brands today?
19:48 – Can small brands use audio branding
22:39 – How small brands can create their audio branding
25:53 – What is brand safety?
30:46 – Applying AI to brand safety in advertising
38:36 – Advice for creatives in problem solving
42:53 – How to be successful creative in different countries?
What makes a brand iconic? Watch the trailer
Watch the episode
Listen to the episode

What is audio branding?
Audio branding or sometimes known as sonic branding is the ability to leverage sound as part of your brand identity. A call card so to speak.
Sound can be a jingle, song, or a collective of musical notes that's unique and supports your brand's branding guidelines and ethos.
My interview with Roger Gehrmann talks directly about this and this is his explanation.
"Sonic brand or particularly in this specific case of sonic identity it's a something that's represented in sound whether it's a melody, a voice, a phrase, a jingle, a song but anything that's within the audio space that represents a brand or an idea or a movement."
(8:53)
"Sonic branding as a term was you know it was in use all the way as far back as the 30s and 40s but kind of disappeared within the advertising vernacular.
I would say during the 60s 70s and 80s when TV kind of took over and the advertising industry you know turned into essentially a tv focused film industry even today if you go to any top advertising agency in the world they still operate very much like you know, mini film studios they still think of video as the the primary method of advertising, but if you really look at what media [and] everyone in the world is consuming, and if you look at more recent platforms right now I would say we're in what's called what i like to call the audio renaissance.
It's like a new age of audio blossoming when you think about the the growth of podcasts and, when you think about the kind of million dollar deals that are happening with podcasts right now and you see the rise of social audio platforms, you can you can see that a lot of people are paying a lot more attention with their ears than they are with their eyes.
People don't watch traditional linear tv anymore, whilst on-demand tv is a thing it's not easy to advertise on at the moment compared to the past with linear tv [when] it was really easy to just buy the tv show that was in the prime time spot today the prime time the most popular tv show.
Audio on the other hand is continuing to grow and the the type of audio that everyone interacts with on a daily basis um you know the amount of hours they spend listening to audio is outnumbers not just tv but it out numbers social media. People spend more time listening to streaming music and podcasts"
Why audio branding is important for your brand identify?
Audio branding is important and should be considered for all brands as a variable to differentiate and cut through the noise, so to speak, in the market.
With continual playback through brand marketing and communication the reinforcement will have a permanent fixture and identity call back over time.
A really good example of sonic branding, or audio branding is Mastercard as Roger explained
"so for Mastercard they came up with a few notes, which is designed to be able to on one hand become as recognizable as the two circles for their visual logo."
Roger further explains why Mastercard's audio branding is so important in today's e-wallet society "you know most of the time these days you're tapping your phone to access your credit Card and you're probably tapping the one that you use the most which means you're probably not even flicking through and selecting the card so the most important branding aspect the visual branding aspect of the card which used to be the most important thing to credit card".
He continued that because the customer experience is now through a phone instead of a tactile plastic element, companies like Mastercard have had to use "the most universal medium that's possible, which is sound".
Roger finished off by stating that Mastercard is now beginning to roll out on every single point of sale machine where the usage of your Mastercard will trigger  "the Mastercard sonic identity"
Another example is Intel with their ionic sound whenever a manufacturer mentioned their computers were powered by Intel in their commercials. "Amazing to think that a B2B manufacturer of computer chips can have a consumer impact like Intel's effective sonic branding has had.Their sonic branding was so far ahead of its time." said Roger.
He continued, "cool story around the intel sound was it wasn't necessarily an intel campaign that actually put that sound in your head but they got every single computer manufacturer by contract to play that sound whenever they mention the words intel inside.
So you've probably heard those notes thousands of times over your lifetime but you heard it when they ever used an IBM ad, a Dell, HP, or Apple, but anywhere where they were going to mention Intel inside.
So with sonic branding coming back into the spotlight as consumers are being oversaturated by visual effects in storytelling, strategists are now beginning to take into mind the audio experience."
According to Roger in the podcast – "there is a lot of room out there for brands to go out and capture the space that's out there in audio, there's only a handful of brands that are really understanding and doing this well at the moment".
How should brands use audio branding?
The principles of branding still apply, understand your audience, their experience with your brand – both now and in the future. Understand how your brand solves their problems and the emotive story that your brand creates.
Simple examples of audio branding for brands, large or small can include the name of your brand said by a certain person's voice, a particular sound effect that could be common or unique, but something that can be attached to your product or service.
Another example could be catch phrases spoken in a unique way paired with simple notes that creates a unique feeling and identify that's consistent with your brand to your audience.
Like with any branding exercise, the processes can take some time, but the long run will be beneficial as more and more people adopt audio based content for entertainment and education purposes.
Reach out to Roger
What is Point of View (POV) Show?
The Point of View business Show highlights business professionals in Asia and around the world to get an understanding on what makes them effective, how they do it and advice to help you grow in Leadership, Branding, Marketing and Sales. Follow the journey and connect with me on LinkedIn.