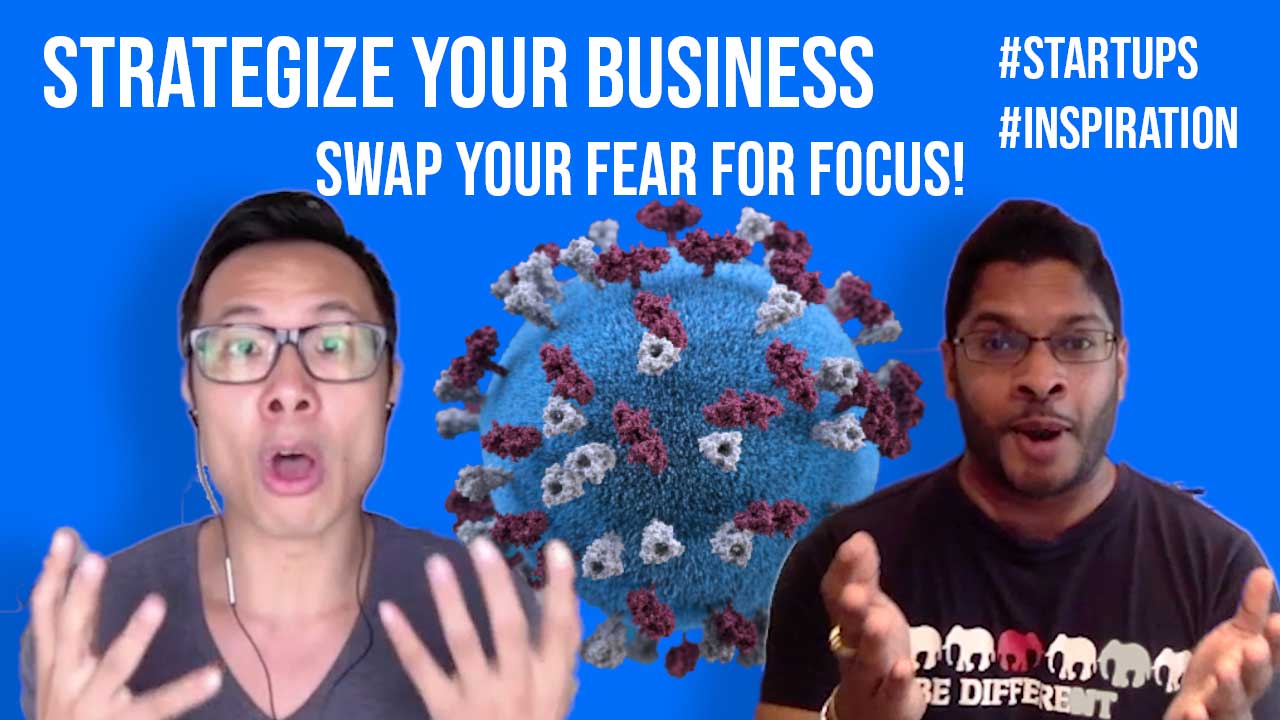 06 Apr

How to strategize your business – Interview with AJ Kulatunga: Swap your fear for focus!

Hey everyone, it's a crazy week, but seeing lots of positive energy and support from a number of organisations, business owners and individuals around the world as the effects from the shutdowns has created a lot of uncertainty and change to daily life.

For this particular episode, I had a quick chat with a mate of mine, AJ Kulatunga, a professional keynote speaker and coach. The knowledge he is dropping throughout the conversation opened up my eyes to the other sectors that have pivoted and riding the wave, essentially, making 'lemonade out of lemons'.

Enjoyed the chat with AJ, his energy and knowledge is truly inspiring, and what resonated with me was the tips he gave out to weather this storm. We also spoke around what he's been seeing with a spectrum of actions that businesses have displayed.

Below are his details, I would definitely follow this guy on LinkedIn and add him to your playlist if you haven't done so already.

AJ's Links:

A couple of articles I featured on the video included:
Masks and hand sanitizer replace iPhones and perfume: Firms redeploy factories to make coronavirus supplies
A great piece that featured General Motors (GM) with their joint-venture partner SAIC Motor converting their manufacturing plants to produce surgical masks in the he southern Chinese city of Liuzhou
Also mentioned were another historic manufacturer, Rolls-Royce, having been required by the U.K. government to make health equipment like ventilators during the outbreak.
And finally, Ford and Dyson in the UK have come out pledging their contribution to this crisis by manufacturing of medical equipment.
Source: Fortune
LVMH Will Use Its Perfume Factories to Produce Hand Sanitizer
A company that's known for producing luxury bags and perfumes for brands such as Guerlain, Dior, and Givenchy have announced that it will convert a few of their perfume manufacturing facilities to make the hand sanitizer
Source: Vogue
From liquor brands to car factories, production lines now resemble the war effort
A nice piece featuring companies such as Tesla announcing the would produce ventilators as they already build sophisticated HVAC technology for its cars.
Even alcohol brand, Pernod Ricard announced it intends to produce hand sanitizers to combat and fight the virus.
Finally, Walmart, Walgreens, CVS and Target have all agreed to let their parking lots be used as test sites for the virus.
Source: NBC News
Factories Pivot to Fight Coronavirus, but Challenges Abound
Some great examples of large corporations doing their bit:
Rum producer Bacardi, have said their distillery in Puerto Rico has shifted to making ethanol needed to produce hand sanitizer.
French cosmetics giant L'Oreal along with other Frech brands will convert manufacturing plants to produce sanitizer gel.
Sharp Corp, one of the largest electronics manufacturers in Japan will start making surgical masks using a plant in central Japan
Source: NY Times
Woolworths offers jobs to 20,000 Qantas woks forced unpaid leave
With Qantas set to let go two-thirds of their 30,000 workforce to cope with the restricted operations imposed by the crisis, Woolworths, one of the largest supermarket chains in Australia have offered to re-assigned affected staff.
Source: Daily Mail UK