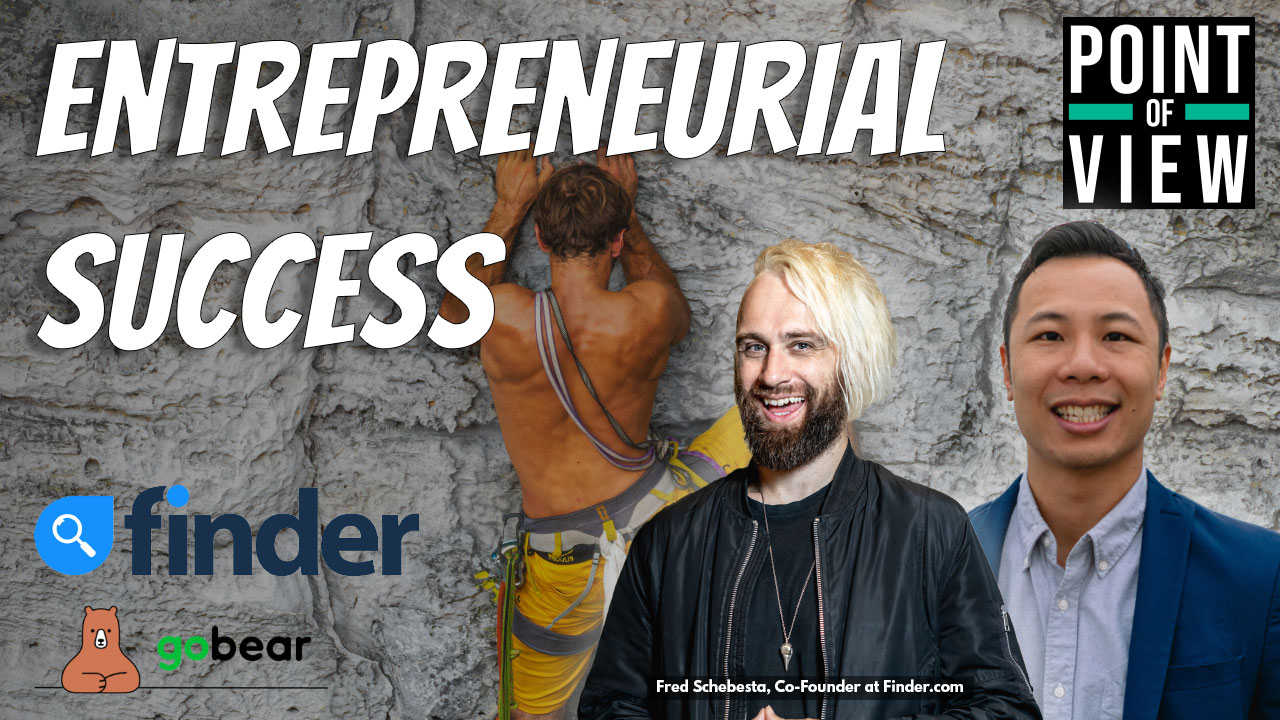 27 Apr

Business success requires hard work Interview with Fred Schebesta Episode 38

How do you define business success? What does it take to be successful as a business operator, an entrepreneur, a manager or executive. How do you see where to invest and provide that inspiration and motivation for your team to deliver on your vision?

My interview with Fred Schebesta, Co-founder of Finder.com a comparison platform helping millions from Australia and around the world make better decisions on their finances and expanding to other products like travel, insurance and many more.

The conversation started with a chat on success and why keeps Fred pushing forward. Afterwards we touched on cryptocurrency and blockchain technology, to his prediction for the South-East Asia market, Go Bear's acquisition and it's future, and finally advice for CEOs out there who are navigating the challenge in regards to investing into new territories for their organisation.

Here are the key chapters of our podcast
0:00 – Intro

3:20 – What would you do if you weren't at Finder.com?

5:55 – What enables Fred Schebesta to keep innovating forward after 15 years at Finder.com?

7:11 – Companies that Fred admires and why

7:53 – What does an investor look for in a company or its people?

10:21 – When it comes to blockchain technology, what do you see that others don't

12:55 – What did Finder.com see in Go Bear that resulted in its acquisition?

14:08 – What does Southeast Asia hold in the next 3-5 years?

15:46 – Advice for a fellow tech CEO on investing into a new product territory for the organization
How to build branding success? Watch the trailer
Watch the episode
Listen to the episode

What do you look for when you invest?
One of the questions which was asked was what does Fred look for when he invests. His answer was a two-part answer.
Firstly, Fred mentions one of the first things he looks at when it comes to investing is strategy. Specifically whether the strategy that the company has developed has "an enduring source of power that will last, and be defensible".
In that sense, what Fred is looking for is structure and the ability for the company to foresee as many opportunities to nullify any threats within its sector. Have that structure looks at 3 elements: People (which is covered next), Processes and Platforms. Do you have the right people involved? Do you have a system to continually improve? And have you invested in the platforms needed to maintain trajectory upwards?
The second thing that Fred mentions is it's people, he mentions that through his experience he "feel" and "can sense a good founder". He goes on to break this down by saying "I try and find companies that have founders still there, and that are driving the company" but he also added "or they've created succession for other people to really embody those down the mindset and and keep it going"
Fintech predictions for Southeast Asia?
Another aspect during the interview I wanted to explore was Fred's predictions in South-East Asia within the context of financial technology (fintech).
This is what Fred said:
"More digitization. More adoption to pure mobile experiences. [at the moment] financial services are still not super easy on the mobile, in fact in Southeast Asia and there's still lots of work to be done there, and we're trying to really drive that and help that.
I think there will be more adoption of investing products that are allowing people to build their wealth and help them get themselves into better financial long-term positions – saving money is one thing.
But I think there's another side to it, [that] is investing your money and I think that's where hopefully we can start to help a bit with that. Those are the big growth areas of what will happen in the next I'd say five years. In 10 years I'd say it'll be purely digitized everything."
And there's evidence to already suggest that with a report from consultancy firm Bain & Company's 2019 report indicating that "Southeast Asia is expected to reach 310 million digital consumers (nearly 70% of the region's population) by the end of 2020, five years earlier than the analysts forecasted".
In addition according to a May 2020 report from Boston Consulting Group that "e-wallet adoption in the region will rise further in the coming years, forecasting the rate to reach 84% by the end of 2025".
Reach out to Fred
What is Point of View (POV) Show?
The Point of View business Show highlights business professionals in Asia and around the world to get an understanding on what makes them effective, how they do it and advice to help you grow in Leadership, Branding, Marketing and Sales. Follow the journey and connect with me on LinkedIn.