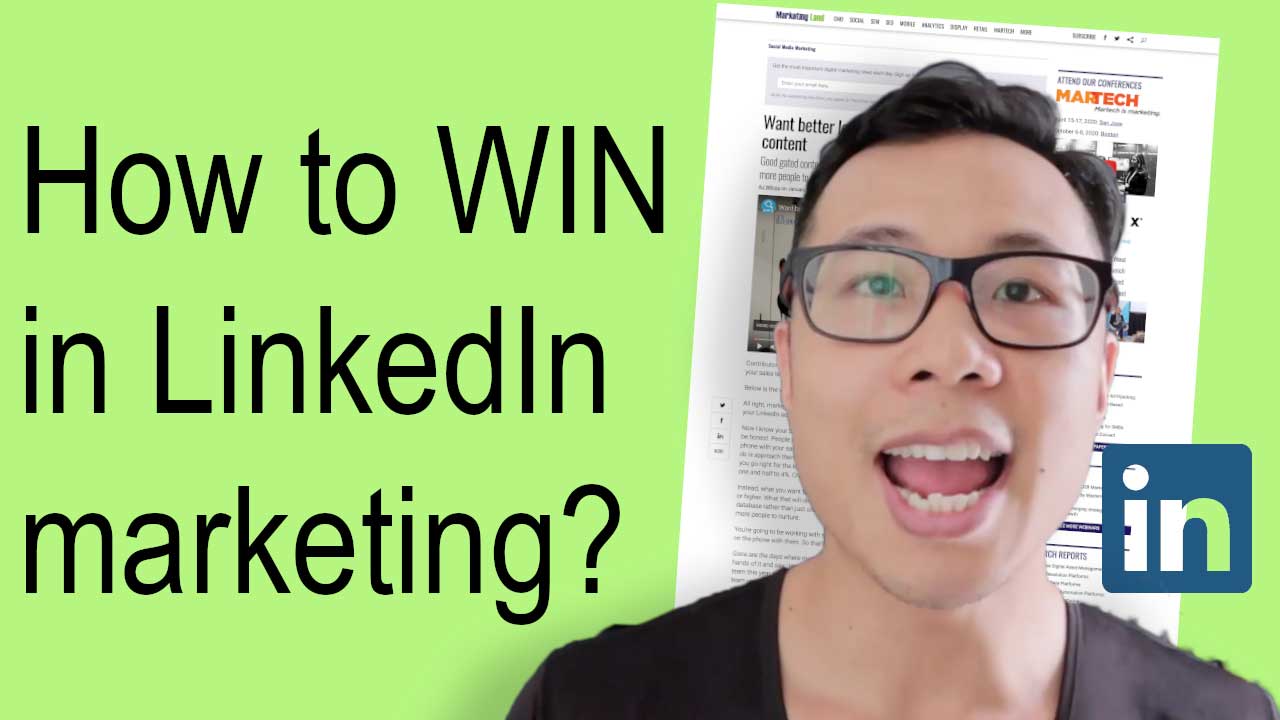 17 Mar

B2B Marketing – How to dominate LinkedIn

Hi everyone, new day, new video! This time I wanted to share an article from Marketing Land and a couple of tips for B2B marketers looking to improve their Ad Spend.

Worth a look, it's a short article with video.

My take:
Stronger integration between sales and marketing
Understand your customer journey and where they lie in the funnel of conversion
Audit your LinkedIn ad metrics, and ask yourself – how do would I increase my conversion rate by 5 or 10 percentage points?
Here's the transcript:
Hey everyone my name is Andy I'm a digital marketer I help brands perform better, and this article I want to give you a few tips to help you with your LinkedIn strategy for 2020.
Hey everybody in this article I want to show you a couple of things that it talks about with regards to LinkedIn strategy. And this is a really good one because it talks about two big things.
First and foremost improving that conversion rate with regards to your gated content, so making sure that your content is up to scratch, making sure you really understand and segment your data properly so that the communication you're gonna push out to the people within that community is relevant to them so making sure firstly that the conversion rate for gated content is high.
Secondly, in this article it talks about integrating from traditional sales and marketing silos, and integrating that into one. So making sure that your sales and marketing teams work together in order to get that conversion up.
What this article resonated with me was the fact that does needs to be a better understanding with regards to your customer base, your segmentation so, who are your customers, who are your decision makers within the LinkedIn space.
Also what are the levels of communication pieces you're gonna have when they go into your funnel from the top of your funnel and then kind of convert all the way down to the bottom part of your funnel.
So understanding:
who your customers are?
what type of media or what type of information that they will be receptive towards
creating value to that audience or to that customer
making sure that you know when they give you information that you're gonna give back information that will help them do their jobs better and
making sure that your sales and operations team are following through, you know because you've worked so hard to kind of get those leads you want to make sure that your sales team and the operations team converting it.
So there some of the things that resonated with me in addition to that kind of besides understanding the customer journey, also kind of understanding the different creatives that you want to try and test as well.
My experience LinkedIn in comparison to other you know digital ad platforms, it is a pretty expensive, but in saying that though it is a very targeted audience so you know that the audience within LinkedIn are in your professional realm so that is pretty important, and that kind of gives credence as to why it's so expensive getting that lead.
But you want to make sure that it's relevant to your target audience and making sure there's smarts in it with regards to the communication pieces that you give out and making sure that there's value each step of the way.
Hey so what do you think? Do you agree with the video do you agree with the article? Let me know in the comments below and I will see you in the next video.
Source article: Marketing Land