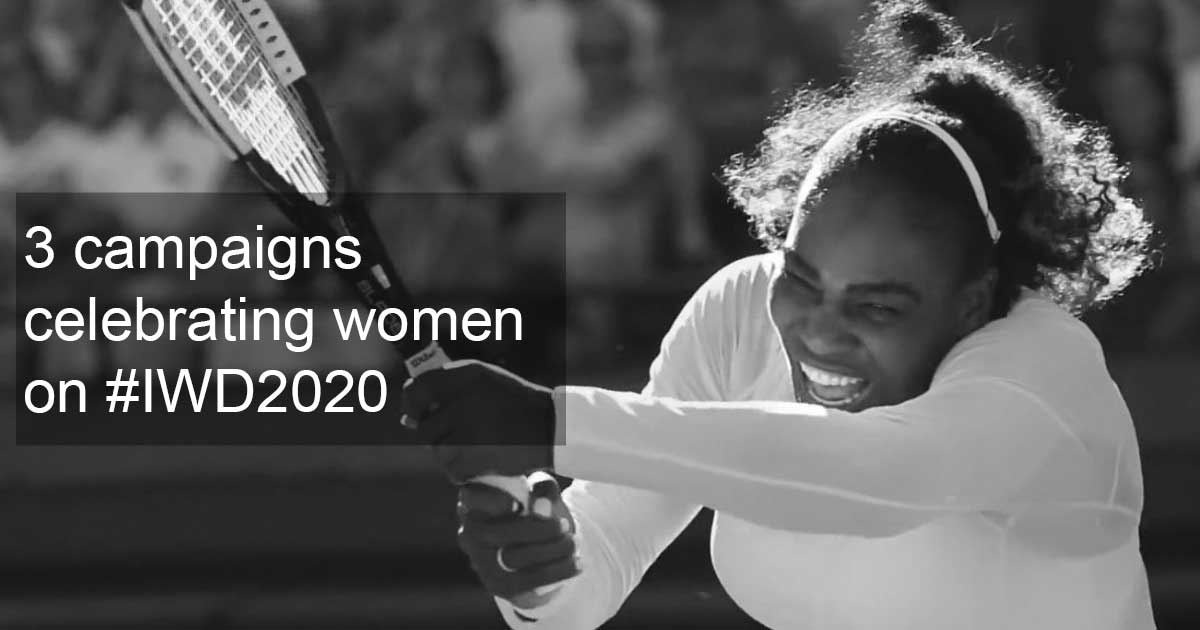 08 Mar

3 campaigns celebrating women on #IWD2020

International Women's Day (IWD) on March 8 is a celebration and recognition of the achievements and perseverance that women all over the world have made in their chosen field. With that said, I thought it would be nice to show three past International Womens Day campaigns that resonated with me, either through the narrative behind it, or it was a clever way to appeal to their target segment group from a marketing perspective.
1. Nike – Dream Craizer
Powerful. Inspiring. Emotive. Words that resonate when you watch this video, narrated by Serra Williams.
Released in 2019, this viral campaign puts into spotlight the female athletes, leaders, and those that have broken barriers around women's social norms.
In my opinion, what makes this campaign so powerful was Nike's ability to leverage its cross-platform presence to push the message out.
In addition, Nike collaborated with Serra Williams to produce the short video, even allowing her to release it before Nike's official channels.
The video went beyond associating its brand with sports but looked at prioritising the celebration of the athlete's achievements over pushing product. The voice and words used by Serra along with a subtle Adidas logo (0:50 mark) further gives it that genuine approach.
Athletes included Simone Biles, Ibtihaj Muhammad, Chloe Kim, members of the US Women's National Soccer Team and Serena Williams.
2. Shopee x L'Oreal – Super Brand Day
Fun, relatable and clear. That's how I would describe the collaboration between Shopee x L'Oreal – Super Brand Day.
Themed as "Women's Day, Live Your Beauty", the campaign ran between March 4 to 8 in 2019 with a 24-hour "takeover" to highlight L'Oreal with in-app game, 'Beauty Ninja', which was created to engage and encourage gamification with prizes and discounts on its platform.
What I liked about the campaign is that Shoppee is appealing to its largest segment, beauty and fashion, and directly giving value to their customers by partnering with L'Oreal and providing shoppers with discounts and specifically themed games to engage users through the app. A pretty cool way to leverage your marketplace reach with a global brand that appeals to your target segment.
3. Lyft – $10 ride discounts
The final entrant comes from Lyft, a ride-sharing app from the United States, which celebrated IWD by offering a $10 discount to passengers who were visiting specific monuments, memorials, statues, museums, and small businesses that were associated with or run by women.
Some of the locations on offer were chosen by Valerie Jarrett, a former senior advisor to Barack Obama and one of the current board members at Lyft.
The promotion was in March 2019 and was offered in 37 cities in America and Canada.
What made this campaign resonate with me is connection with the brand's core service, transport, and associating it with locations that promoted gender equality.
In addition, the straight-up discount gave passengers an incentive to use the app and promotion, with an influential and iconic figure endorsing the campaign gave it legitimacy in the marketing community.
Lyft board member and former Barack Obama adviser Valerie Jarrett, who is also interviewed in a short video discussing her career and the women's movement.
BONUS. GoPro
Released in 2016, GoPro wanted to tell their story in recognising and celebrating the achievements, dedication and determination of women all around the world pursuing their passion everywhere.
What made the video work was the genuine responses from the women featured and clever use of its product to capture their point of view.
And a continuation of that celebration and recognition was their 2019 video follow up